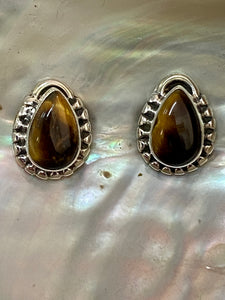 Sterling silver tiger eye earrings
It is a stone that has been associated with protection, courage, and luck. Its earthy color symbolizes the energy of Earth that brings clarity and helps to open up blocked energies in its wearer. The stone also has protective properties, providing insight into danger and helping one stay grounded while pursuing their goals.
The tiger's eye serves as a reminder to be brave and courageous when facing difficult situations. This gemstone encourages self-confidence and resilience, allowing one to achieve their desired outcome without fear or hesitation. Plus, it connects one to inner wisdom—prompting reflection on how personal actions affect everyone around them.